DIAMONDS
Every single diamond at KREBS . HYLLESTED is selected by hand, to ensure the elusive beauty.
To eliminate the trade in conflict diamonds, we only use suppliers who are 100% committed to the .link.https://www.kimberleyprocess.com/en/about.linktext.Kimberley Process Resolution (UN)..linkend.
SHAPES

The 4C´s
The 4C´s is an International Diamond grading system, made to determine the Carat, the Colour, the Clarity and the Cut.
CARAT
A carat (ct.) is a unit of weight for diamonds and other gemstones. One carat equals 200 milligrams (0.200 grams). Please do not confuse Carat with Karat, as in "18K gold", this refers to the purity of the gold.
There are 100 Points in a One Carat Diamond (written as 1.00 Carat). Which means that if a diamond weighs 1/2 carat, one would just say 50 points or .50 ct.
Please note that the diamonds shown below are proportional in size.

COLOUR
Most Diamonds are graded from D (Colourless) to Z (Light Colour).
The less Colour, the higher their value. The exception to this is Fancy Colour Diamonds, such as Pinks and Blues, which lie outside this Colour range.
The majority of Diamonds used at KREBS . HYLLESTED, runs from Colourless to Near Colourless - with slight hint of Yellow or Brown.
GIA
Description
Traditional Terms
D
Colourless
River
E
F
Top Wesselton
G
Near Colourless
H
Wesselton
I
Top Crystal
J
Crystal
K
Faint Colour
Top Cape
L
M
Cape
N
Very Light Colour
O
Light Colour
P
Q
R
S
Light Colour
Tinted Colour
T
U
V
W
CLARITY
The Clarity of All natural Diamonds have impurities called inclusions.
The Diamond is graded from flawless to included.
In determining a clarity grade from VVS1 to SI2, we use a 10× magnification.
If the Diamond is included (I1 to I3), the inclusions will be obvious and visible to the naked eye.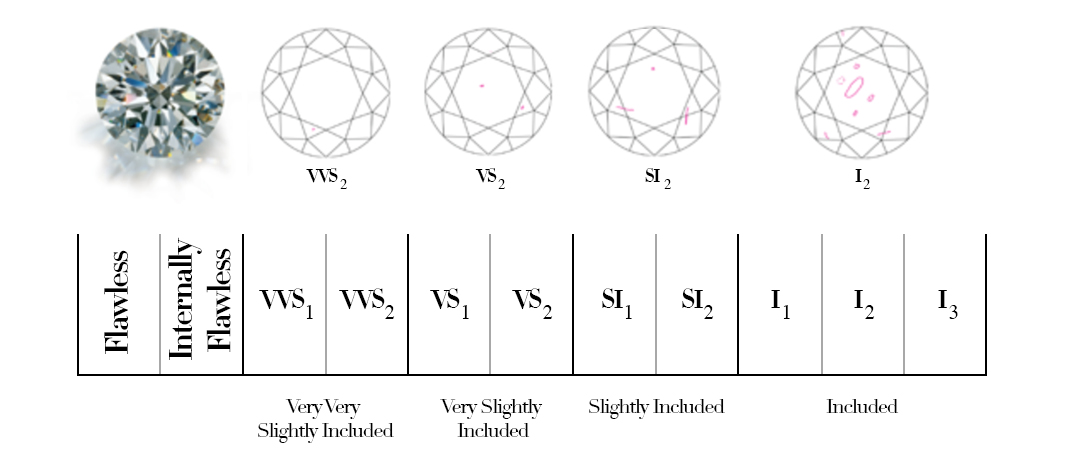 CUT
To KREBS . HYLLESTED the beauty of the diamond is the most important thing.
The outstanding optical properties of the diamond are only fully realised through the Cut.
With the proper proportions, you will be able to reach optimal reflection of the light.
Cut has the greatest single influence on a diamond's sparkle. Of the 4 qualities that define a diamond's value, the cut is the only one determined by a human being. A skilled diamond cutter realises the rough diamond's potential. They cut and facet the crystal to reflect the maximum amount of light inside the gemstone and back through the top of the diamond. Diamonds can be cut too shallow or too deep, both of which cause light to leak out of the bottom and sides of the stone, diminishing its sparkle.